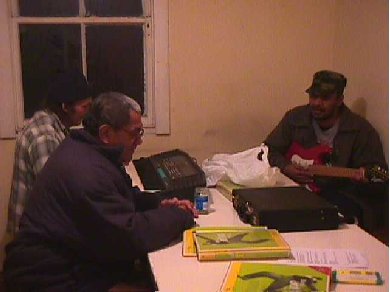 After tea we were treated to some wholesome entertainment with George the Piano man (Think Elton…), P.J Moore (brother to Gary) and Les the Wailer (no relation to Bob!) with some very interesting musical numbers, what was the name of that song Les? I'm sure we could make it to number one!! We were also treated to some musical numbers by Rangi a.k.a Mr Karaoke. He was so enthusiastic about his singing, we were treated to a whole HALF a song…yeah Rangi, he's such a pro don't you think? Entertainment at its finest.
The LOOK LISTEN and LEARN RULE didn't seem to apply on our last night no one wanted to go to bed and some were singing well into the early hours. BUT there were some of us wise Kiwis who could foresee the day ahead when we would complete the final task, that being the dreaded ORIENTEERING course. (This went through with a breeze for some of us lucky ones who decided to stay behind to clean up ready for our departure back to civilization).
What should've taken approx 3 hours was cut in half as the RED team came whooping back to base doing their victory dance. (Just picture a herd of cattle charging down the road with no direction) THE RED TEAM HAD WON (or so they thought).
Slowly but surely, the blue team straggled in defeat.
DEBRIEFING TIME AT THE WHARE:
Our Head facilitator, GI George, gave us our final results for the whole weekend. This was summed up in one sentence. RED TEAM NIL POINTS, BLUE TEAM NIL POINTS…..what a way to go!!

All that trying not to "pop" things (and trying to get others to pop them instead!) seemed like it was all for nothing.
But the final question from our Head facilitator was: WHAT DID YOU LEARN?
After pondering that simple little question for a lengthy…two seconds we still couldn't come up with the answer so….. It went something like this…..
The whole point of the weekend was to work on teambuilding skills.
To work together as a team to achieve our goals….which previously we didn't but can now.
To communicate as one big team to complete our tasks…which previously we didn't but did now.
To problem solve as a team….which previously we didn't but did now.
Don't make it a first past the post….which previously we didn't but did now.
Don't make it a THEM and US competition…..which we did but don't now.
Don't hide your ideas and plans from each other…which previously we didn't but do now..