Known Destination
O'Neil's Shearer's quarters, Fields Track.
Approx four hours overdue with rain wind and mud everywhere, freezing cold and I think I want to go home.
That was our initiation.
I'm sure our Facilitators should've given the whole crew 100 points for teamwork that night due to the fact that within less than an hour of arrival beds were made, fire lit, tea cooked and instructions received for the following day.

Saturday started with a bang and I mean a real BANG!
GI and Ben and their booby traps everywhere!
I then recalled the warnings from the night before…"watch where you
walk, 20 points deducted for every booby trap you set off'. This was going to be an interesting weekend after all.
Full points to Rangi for supplying us with a breakfast that could've fed 100 people. (And it would've too, seeing as he cooked up our porridge ration for the whole weekend in one hit… Go Rangi!!!!!)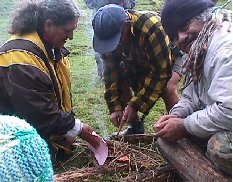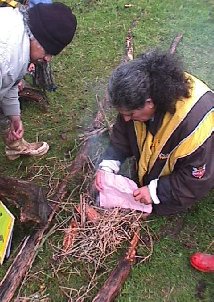 Well with two teams chosen, our inventory kits issued and a hearty breakfast under our belts we set off with our facilitators on the first of our teambuilding escapades.
OH OH…. our third Facilitator, Ray must've come in the night so now we will have triple the fun.( Yippee!!)

The first task was for each team to light a fire using two sticks. I remembered thinking this could be very tricky considering no one in our team could light a fire WITH paper and matches let alone without those luxuries.
Our luck must've been in that morning because a cigarette butt appeared from nowhere and lo and behold instant fire.
Now that's what I call teamwork at its best.
Sometimes it's good to bring along kids who don't listen, especially when they're in the opposing team…Yeah Kamisha you go girl.