Blind mans walk was a real team effort for both teams but sadly it was panic stations for our Facilitators who COULD see where we were going.
Itís hard work trying to climb a hill blindfolded after a week of rain as we soon found out, no concrete pavements out here to stop you sliding around just good old fashioned country mud and slush and dirt and grime.

On our way back for lunch the blue team decided to take the long way around to the shearing quarters while the keen lean and full of cream red team opted for the more direct approach which was straight down the hill unfortunately in their haste to be the first ones back someone in the team activated a booby trap and all we heard on our return was a bang and then a lot of very dejected comments some made in English and the more severe comments made in some foreign language certainly wasnít Maori as we know it.
As we all arrived back to base after stumbling around the hills blind we sat down to discuss our experiences and came to the conclusion that it is really hard to walk around hills blindfolded especially when there are no guide dogs around and if there was Iím sure they would be probably off chasing sheep or something. As our discussion came to an end we were treated to another primo exercise. An intellectual activity called perception is reality. You may be asking yourself as you read this. What is that? Well we soon found out, our aim was to follow the instructions as read out by Ray and draw a picture representing what we heard. The picture was supposed to be of a man holding a kite with a ribbon attached to the bottom though some of us drew a picture that resembled anything but. After our smoko we were told to pick out one person who would then be taken away and hidden from us. Our aim was to find them using directions as given by our hidden person. Blue team did very well while the speed freaks (Red team) approached it like a bull at a gate overshooting our missing person and finding a well camouflaged facilitator who freaked one of our team members out, more foreign language as we all realized we had overshot our mark.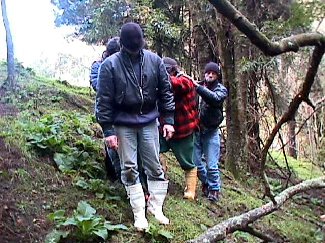 After an excellent clue from our teams hidden person (red team) we made our way back along the fence line and promptly found our team member who himself was well camouflaged in the scrub. We slowly made our way back to base and heard that blue team had also found their teammate. Way to go blue. The exercise was really good as it taught us how to Look for certain landmarks to find the right direction in which to start looking, To Listen to what was being told by our hidden team member and Learn about teamwork. Those three L rules always appear to be right there.
After lunch we set off to learn about gun safety and partake in a spot of target practice both teams were excited even our younger ones were determined they were not going to miss this exercise. GI George and his team ensured that all safety measures were in place and away we went. Not all of our members took part in this activity for various and good reasons and although it might be exciting for most of us a gun is designed to do harm and to some it is intimidating and to others just damn frightening.

Target shooting was a confidence builder for our younger ones. As for some of our older wardens, well they havenít stopped talking about the experience. Our young women were not slow in coming forward they did exceptionally well and what can I say about the males in both the red and blue teams. If ever there were a display of technique and skill in pose of the year from shooting in a kneeling position to lying flat on the wet ground position, our males take the cake in all aspects .In others, they are the eggs that make the cake. It seemed to take forever to complete.

We were all given ten bullets each, five bullets for one rifle with sights and five bullets for the rifle without sights. Everyone did really well and so they should have, given the amount of time it took to fire a shot, a damn rabbit passing by could have stopped to have a play, make a few baby rabbits and have a big fat feed before a shot fired. Overall experience, with all jokes aside, a marvelous time was had by all. Looking forward to the next exercise.

All this activity must be a very hungry exercise. Watercress was on the tea menu BUT even the kind assistance of the farmers with their offers of horse transport up and down the road or a ride in their many flash land rovers, could uncover much at all, however we did learn heaps about the Parapara and Fields track road from dear old Alan OíNeill. What a guy,
Hitting on eighty odd and still cuts a fine figure on a horse. They donít breed them like that anymore, TOUGH AS OLD BOOTS and a walking history book.